OPTIONAL CONNECTORS FOR MOTOR, BATTERY,ESC, & CHARGER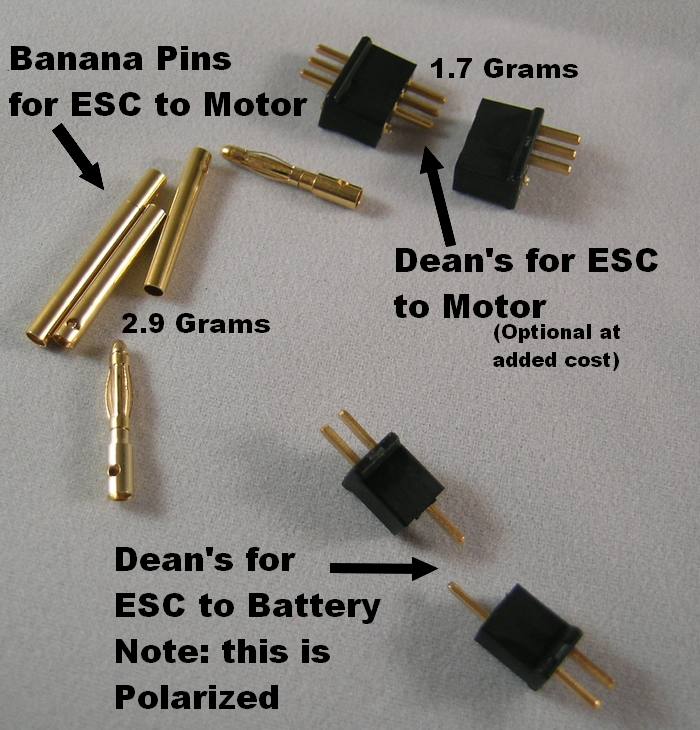 You have options to have us supply and solder connectors to many of the accessories purchased from us.
NOTE: THESE ARE CORRECTLY CALLED DEANS MICRO CONNECTORS

A Brief Summary of the Above Connectors
The TP battery comes with a red JST connector. This connector is adequate for E-36 but it is marginal. You may elect to just stay with it.


The Dean's two pin above is a good choice for the battery and if used, you need to add it to the ESC also.


For the ESC to motor connections, we offer two choices. The banana pins are very good and provide a solid power path, but at a slight weight penalty. If used, the male half goes on the motor and the female on the ESC. To reverse the motor direction, you simply swap two of the pins.


The three pin Deans is actually a four pin with one clipped off so you can flip the connector around to change the motor rotation direction. The connector is not as good as the banana pin for carrying current, but a bit lighter and certainly convenient. For E-36 it is OK. The male side goes on the motor and the female on the ESC.
All connectors will be soldered with high quality solder (pre EPA messing with it) and I am skilled at making reliable, quality connections. All connections will have heat shrink tubing used as protection.