TEXAS MICRO DT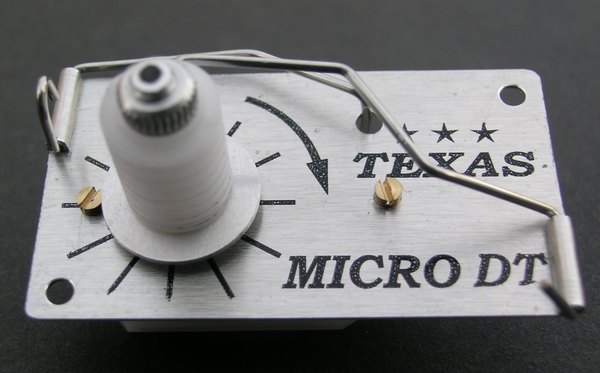 This is the little jewel. Only 5.75 grams and a faceplate of 0.86 X 1.55 inches
Please note that the start wire function is at the top left and it is released (timer started) by pushing to the left. This is a departure from all of our other timers. It is done this way to make the timer as small a possible.
We have had numerous requests over the years for this timer. Finally, it is available. No longer do you have to be tied to the inaccuracy of viscous timers or fuses on your small models. It is both accurate and repeatable!
This timer is based around our popular Micro MAX that is field proven. Our thought is that this timer will be used in small rubber power planes and gliders. We see no problem in it being used in gas power planes up to 1/2 A. We see no reason at all to consider using it in any larger gas plane as we have many other timers that would seem to be more suitable.
The Micro DT weighs in at only 5.75 grams on our electronic scale. The face plate is made to be as small as we could. It is only 0.86 X 1.55 inches. Instructions are included but ask if any questions at all, please! I use this timer in my own glider. You can see it HERE
The timer is certainly good for three minutes. Note that the scroll can be loosened and rotated by using the small right-hand nut on the top. This permits very precise time settings.
A useful Installation Kit is now available. It includes a nice laser cut 1/32 thick ply plate and three #1 screws that are appropriate for this lightweight timer.
Do keep it clean as any oil, dust, balsa sanding dust, pollen, or contamination will play havoc with the tiny gears inside the clock. There is no way I know of to clean the insides. Replacement of the clock is the only repair. Forgot this from the instructions: Wind the clock with the DT wire OFF THE SCROLL! Wind until just snug, Do not strip it!
ORDERING